I got my first GPS navigation unit—a Garmin nüvi 265WT—in June 2009. By 2010, I had figured out how to use it to record my driving, and I now save that driving data in a driving log.
This driving log is a collection of KMZ (Google Earth) files, allowing me to see everywhere in the world I've driven.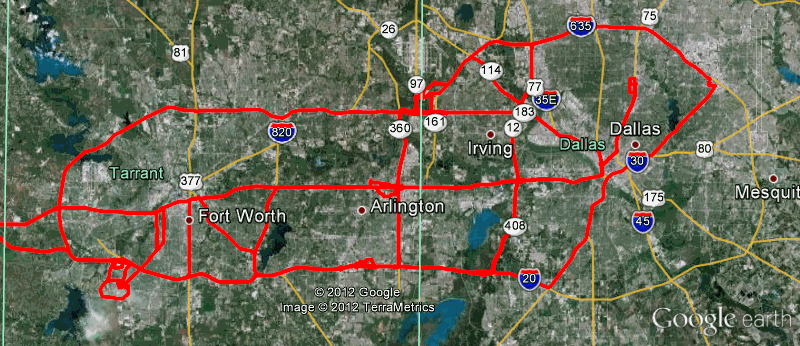 Table of Contents
Process
I use the following process to manage my driving log data:
Using EasyGPS, delete any tracks I'd already downloaded. (Current.gpx is a rolling buffer of recent tracks, so some tracks persist through several downloads.)
In a Driving Log folder, save a KMZ file for each trip, as well as a KMZ file for each year of local driving, following the file naming conventions below.
File Naming
All of my driving log KMZ files are stored in a single Driving Log folder on my computer. I have a KMZ file for each year's local driving, and trips each have their own KMZ file.
In order to be able to search for tracks in a given region, each KMZ file is named with a list of U.S. state and Canadian province abbreviations (or country names for any track not in the U.S. or Canada) showing every region included in the file.
Annual Local Driving Files
These files are named in the format "YYYY Local (location_abbreviations).kmz". For example:
| Name | Meaning |
| --- | --- |
| 2010 Local (IL IN KY MI OH TN).kmz | 2010 local driving, which includes Illinois, Indiana, Kentucky, Michigan, Ohio, and Tennessee |
Individual Trip Files
Individual trips are named with a YYYY-MM-DD format date of the earliest track in the trip, a space, the destination city, a space, and in parentheses a space-separated list of included location abbreviations. If the car is a rental car, within the parentheses, a comma follows the abbreviations, followed by the airport code and the word "Rental" (if it was not rented from an airport, the airport code is omitted). For example:
| Name | Meaning |
| --- | --- |
| 2010-12-07 Abilene (TX, ABI Rental).kmz | A trip starting 7 Dec 2010, to Abilene, with all driving entirely in Texas, with a car rented at ABI airport |
| 2011-01-16 Binghamton (NY PA, AVP Rental).kmz | A trip starting 16 Jan 2011, to Binghamton, with driving in New York and Pennsylvania, with a car rented at AVP airport |
| 2011-01-24 Washington (MD OH PA VA WV).kmz | A road trip starting 24 Jan 2011, to the Washington DC metro area, with driving in Maryland, Ohio, Pennsylvania, Virginia, and West Virginia, using my own car1 |
---
I was staying in the Virginia suburbs of DC, and never entered DC proper, which is why "DC" is not included in the list of abbreviations. ↩︎