Next spring, I'm planning to go on a two-week European vacation with Amy.
I had a number of United miles saved up—not quite enough for two round trips to Europe, but enough to get us each a one way itinerary to Munich (our first destination). Airlines like to make it difficult to redeem miles at the advertised rates unless you book well in advance, so we cashed in the miles this week and got a pair of one-way tickets from Chicago to Munich, operated by United's Star Alliance partner Air Canada with a layover in Toronto.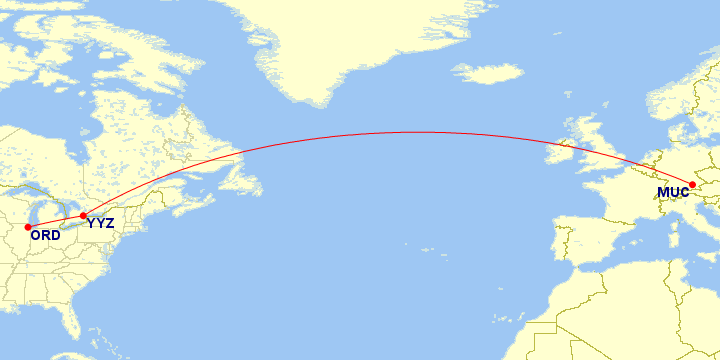 On a ticket like that, I have to select my seats on Air Canada's website, since they're the ones actually operating the flight. United provided me Passenger Name Record (PNR)—one of those six-letter-and-number locators that you use to look up your flight itinerary—for our Air Canada itinerary.
I went to Air Canada's website to pick my seats, plugged in that PNR… and was a bit surprised by the itinerary I saw:

In addition to the two 2016 flights that I'd bought, there were two additional flights booked in 2015, showing a trip from Honolulu to San Francisco to Toronto. It wasn't exactly what I was expecting!
This was a bit concerning to me, as I had no intention to go to Hawaii this month—and I was worried that if I didn't show up for the first flight, my whole itinerary would be cancelled. I called Air Canada, but they told me I'd have to check with United, since United sold me the ticket.
Fortunately, the United agent I spoke to was very helpful. After looking into it with me, she was able to figure out that I'd been issued a PNR that was already in use.
Well, I understood that—with six digits that each have 36 possibilities (A-Z and 0-9), there are 366 = 2 176 782 336 possible combinations. That's a lot of records, but it's not infinite, and I can understand that eventually some numbers would have to be reused. The agent let me know that usually they try to wait a while before reusing a booking number, and it's usually not a problem because they normally look up reservations by booking number and last name.
So it appears that of two billion booking number possibilities, I was assigned one that was not just in use, but also in use by someone else who also has the last name Bogard.
What are the odds of that?
Anyway, once we figured out that their computer was seeing four flights with the same record locator and last name and assuming they were one itinerary, the United agent was able to cancel my half of the flights off of that existing reservations and rebooked my tickets on Air Canada, giving me a new record locator that (thankfully) appears to be unused by any other Bogards!