Every aircraft has a unique registration number, usually printed on or near the tail—think of it like a license plate for an airplane.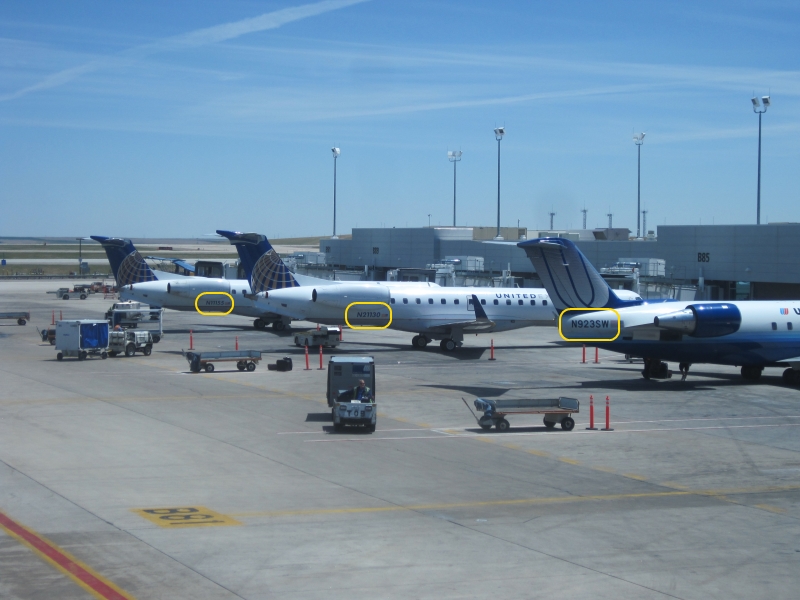 I track tail numbers on my flight log in order to let me keep track of whether I've been on a particular airplane before, and to let me know which particular airplanes I've flown on most often.
Much of the time, it's possible to see the tail number, but sometimes the way the plane is parked at the terminal means you can't see it. You can usually find the tail number with a bit of detective work.
Table of Contents
Check FlightRadar24
Flightradar24 often has tail number data on flights that are within a few hours of departure, and for a few days after departure.1 This is the first place I'll look, since it's far easier than any other method of finding a tail number.
Try searching for your airline and flight number, though note that you'll have to use an airline code instead of an airline name to search (for example, you need to search AA1342 instead of American Airlines 1342).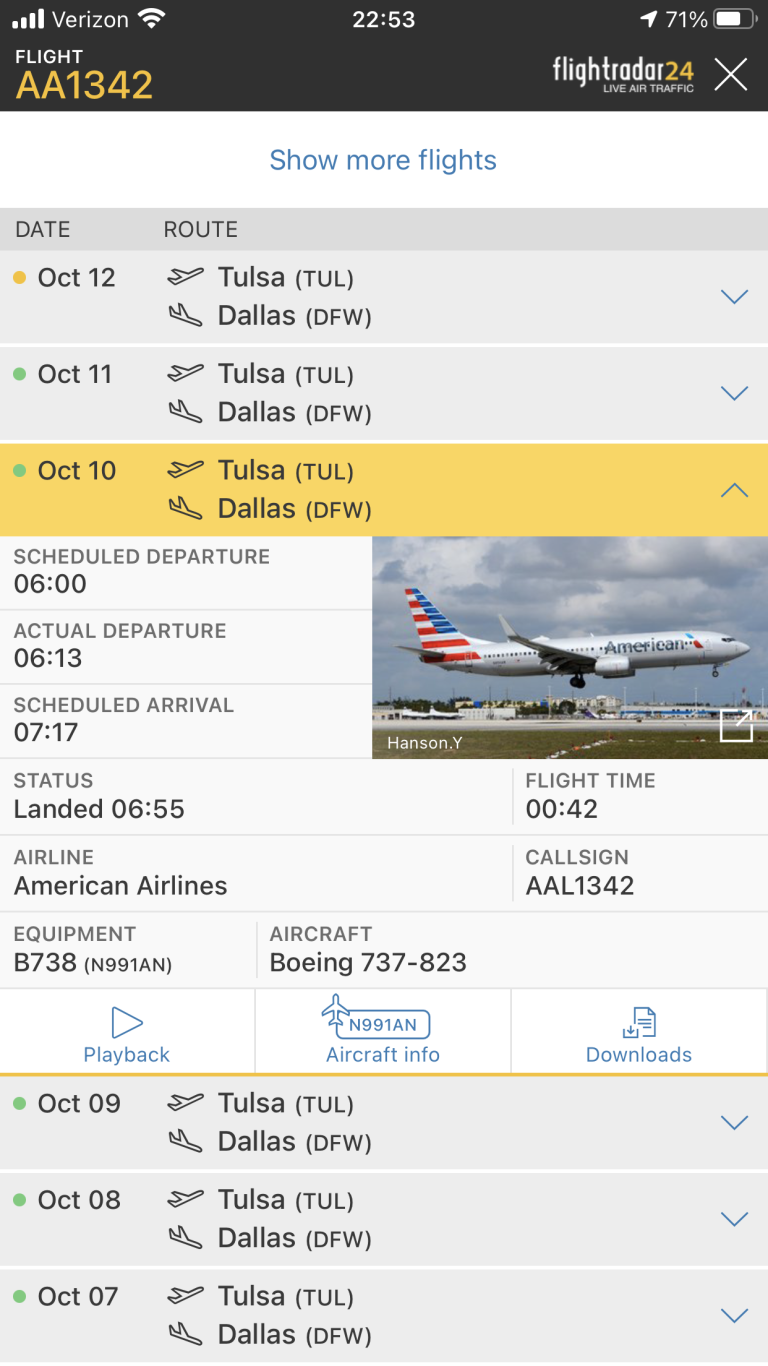 I use the FlightRadar24 app (since I'm usually using a smartphone in an airport when I'm looking up tail numbers), but their website has the same functionality.
Find a Fleet Number
If you're unable to see the tail number directly, your goal should be to find some other way to uniquely identify an airplane, and use that information to look up the tail number on a site like Planespotters.net. Planespotters.net maintains a database of airline fleets, so once you know the operator of your flight, you can start trying to narrow down which of their aircraft you're about to fly on.
Find Your Airline and Aircraft Type
Who operates your airplane, and what type of plane is it? Before you try to narrow down what aircraft you're on, you need to know this big picture flight info.
Finding your airline isn't always as easy as it sounds. For example, your ticket may say United, the airplane you're about to board may be painted like a United aircraft, but it may not actually be operated by United.
Often, mainline airlines will contract out operation of some of their flights (particularly smaller regional flights) to other airlines that you may never have heard of—ExpressJet, Trans States Airlines, and hundreds of others. Fortunately, these are usually listed on flight status pages, so go to the website or app of the airline printed on your boarding pass and look up your flight.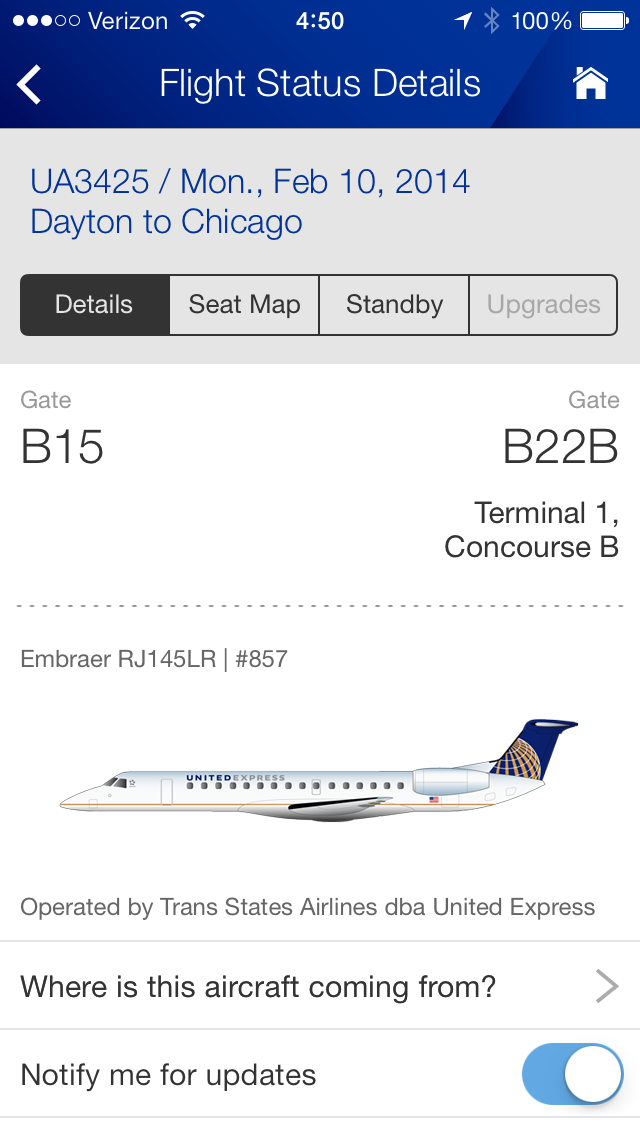 The airline who is actually operating the plane is what will matter for the steps. So, for the remainder of this article, "airline" refers to the operating airline unless otherwise specified.
The flight status page will often also tell you the aircraft type (in the above screenshot, it's an Embraer RJ145LR). Make note of this, as it's also helpful in finding out the tail number.
Look for a fleet number
Most airlines have their own way of uniquely identifying their planes, in the form of a fleet number. Sometimes your airline's app may show the fleet number (as in #857 in the screenshot above). This is often printed on the aircraft as well, but it may be in an easier to see spot than the tail number.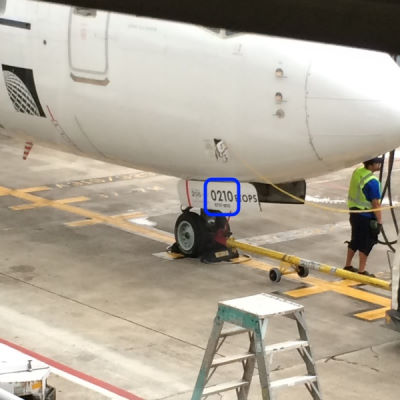 Look Up the Aircraft on Planespotters.net
Once you have a fleet number or some sort of serial number, go to Planespotters.net's airline fleet database and browse to your operating airline. For this example, our operator was Trans States Airlines.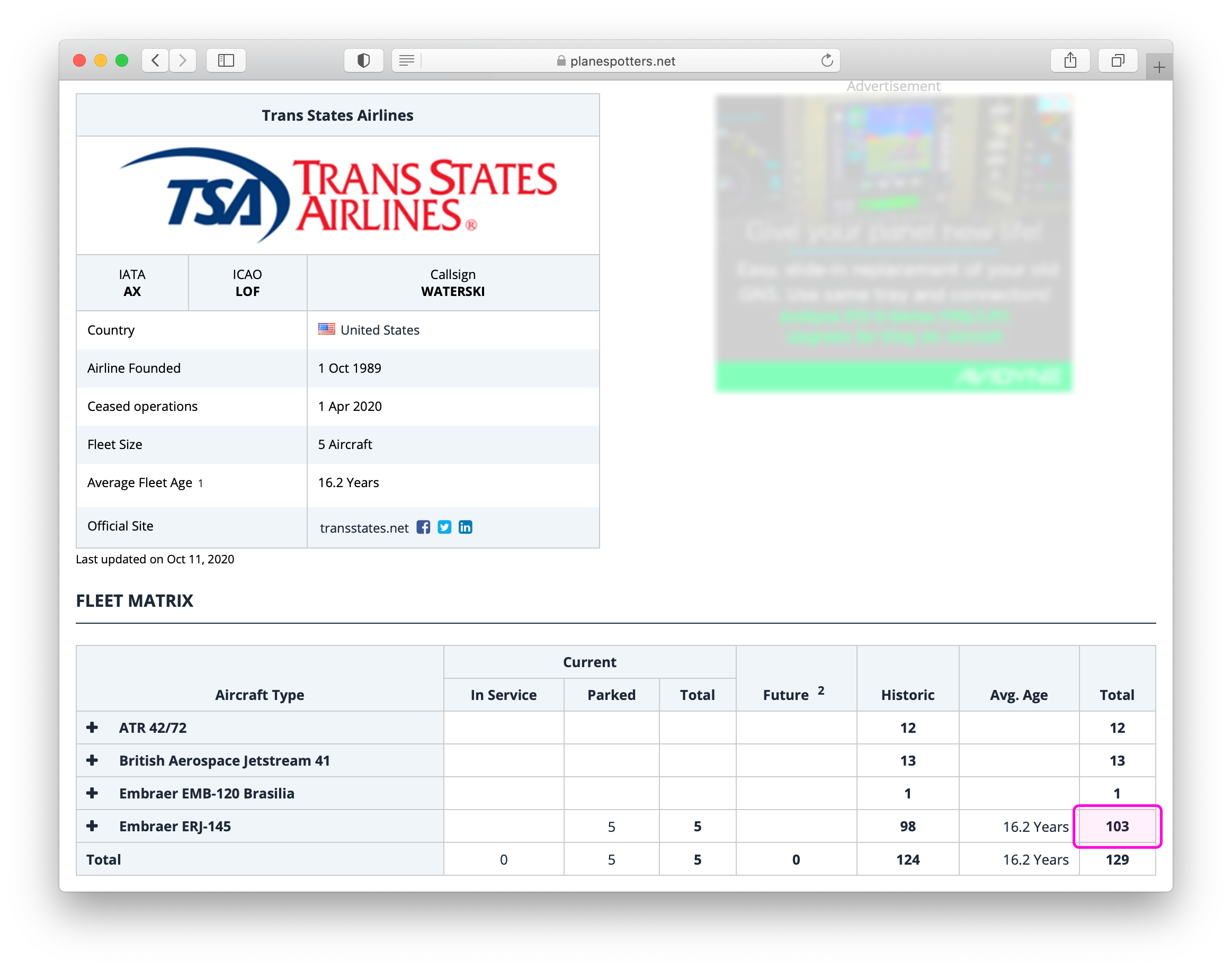 United's app listed our plane as a Embraer RJ145LR. I've found that aircraft type names are often slightly inconsistent, so you should really be looking for the closest type to what your app told you, which in this case is the Embraer ERJ-145. Click the number in that row in the Total column (highlighted in magenta in the screenshot above) to see a listing of all of Trans States Airlines's ERJ-145 fleet.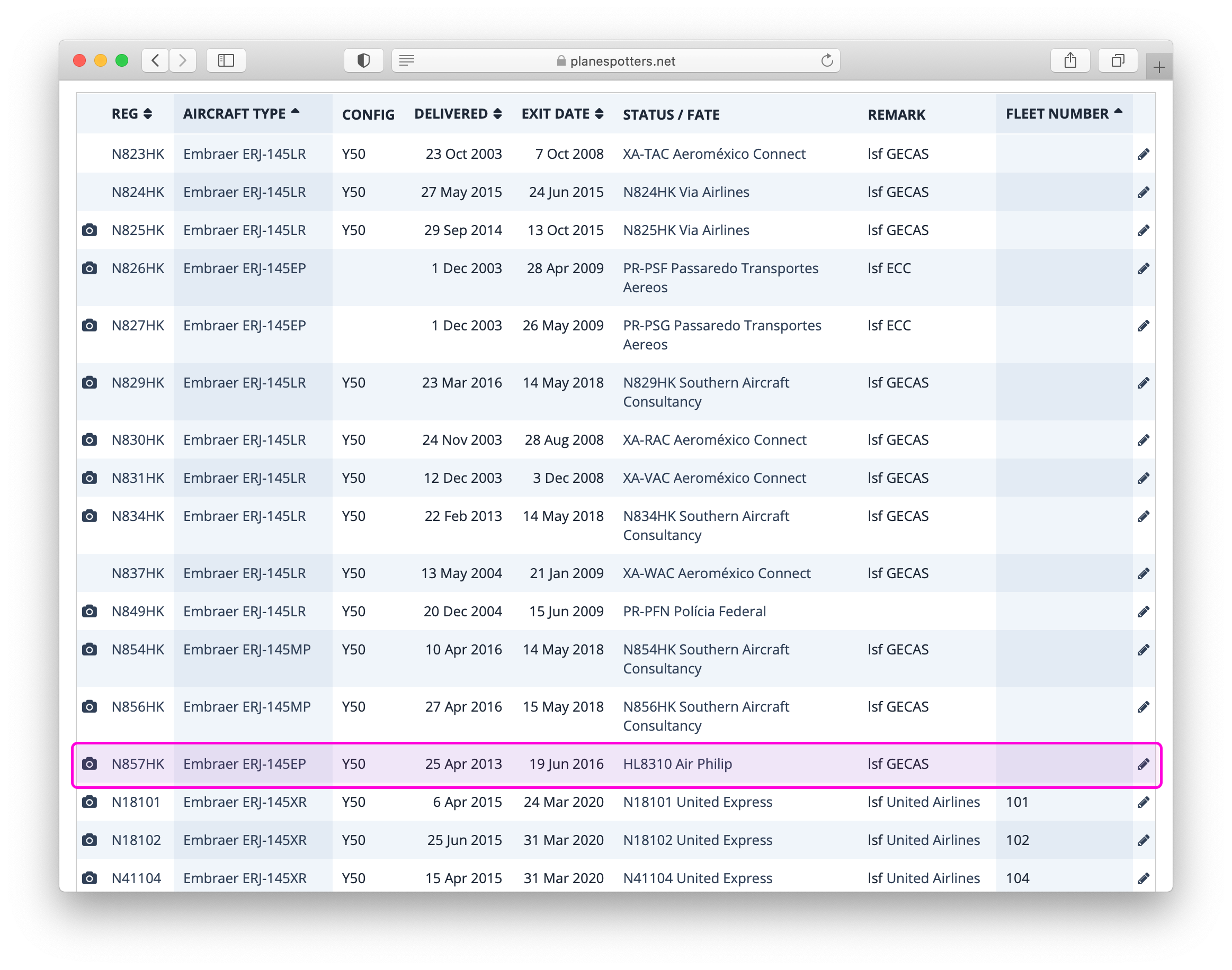 If you're lucky, the fleet number you found will be listed in the fleet number column; from there, look over to the REG (registration) column, which will provide you your tail number.
If your fleet number is not listed, look at the column of registration numbers—often (but not always) the fleet number will have some correlation with the tail number. For example, on Trans States Airlines's ERJ-145 fleet, most of the tail numbers are in the form NFFFHK, where FFF is the fleet number. From there, it's pretty easy to determine that the example fleet number of 857 has the tail number N857HK.
Of course, it's always a good idea to try to get confirmation that you're correct by searching for that tail number on FlightAware and seeing if the itinerary matches what you expect.
Find a Serial Number
If you can't see a fleet number, you may be able to find some sort of manufacturer serial number2 printed on the interior of the plane—either on a plaque, or on paperwork or certificates displayed on the plane.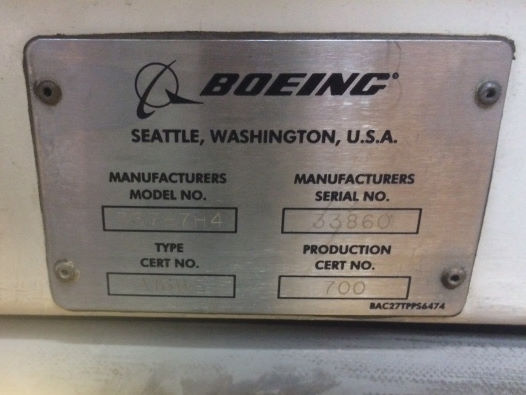 For example, in the above photo from a Boeing 737, the MANUFACTURERS SERIAL NO. is listed as 33860. Planespotters.net tracks this number as well (often abbreviated as MSN). Searching for this number in the Planespotters.net search tool yields a Southwest Airlines 737-700 with tail number N470WN.
Ask the Crew
It is, of course, possible to ask your flight attendant during boarding if they could get the tail number from a pilot.
Generally I'll try not to let it get to this point, since the crew have plenty to do during preflight, but it is an option.
BTS On-Time Statistics
If all else fails and you can't get the tail number while at the airport, it may still be possible to get it later.
Within the United States, the Bureau of Transportation Statistics (BTS) tracks the on-time performance for many domestic flights. Included in this data is the tail number of the flight.
There are some caveats:
BTS only tracks US domestic flights.3
BTS only tracks airlines that carry at least 1% of all US passenger traffic, so many flights operated by smaller regional carriers aren't tracked.
BTS only has data about 1–3 months after the flight occurs, so you will have to wait a few months to find your tail number.
On the BTS Airline On-Time Statistics Page, scroll down to the Detailed Statistics section, and select either Departures or Arrivals, depending on whether you want to search for flights by the departure airport or arrival airport. (I usually search by whichever airport is smaller, so the list of flights returned is easier to look through.)
As an example, on 15 February 2020, I flew from Los Angeles (LAX) to Detroit (DTW) on Delta 1242. Detroit, the arrival airport, has fewer flights than Los Angeles, we will use the Arrivals search form.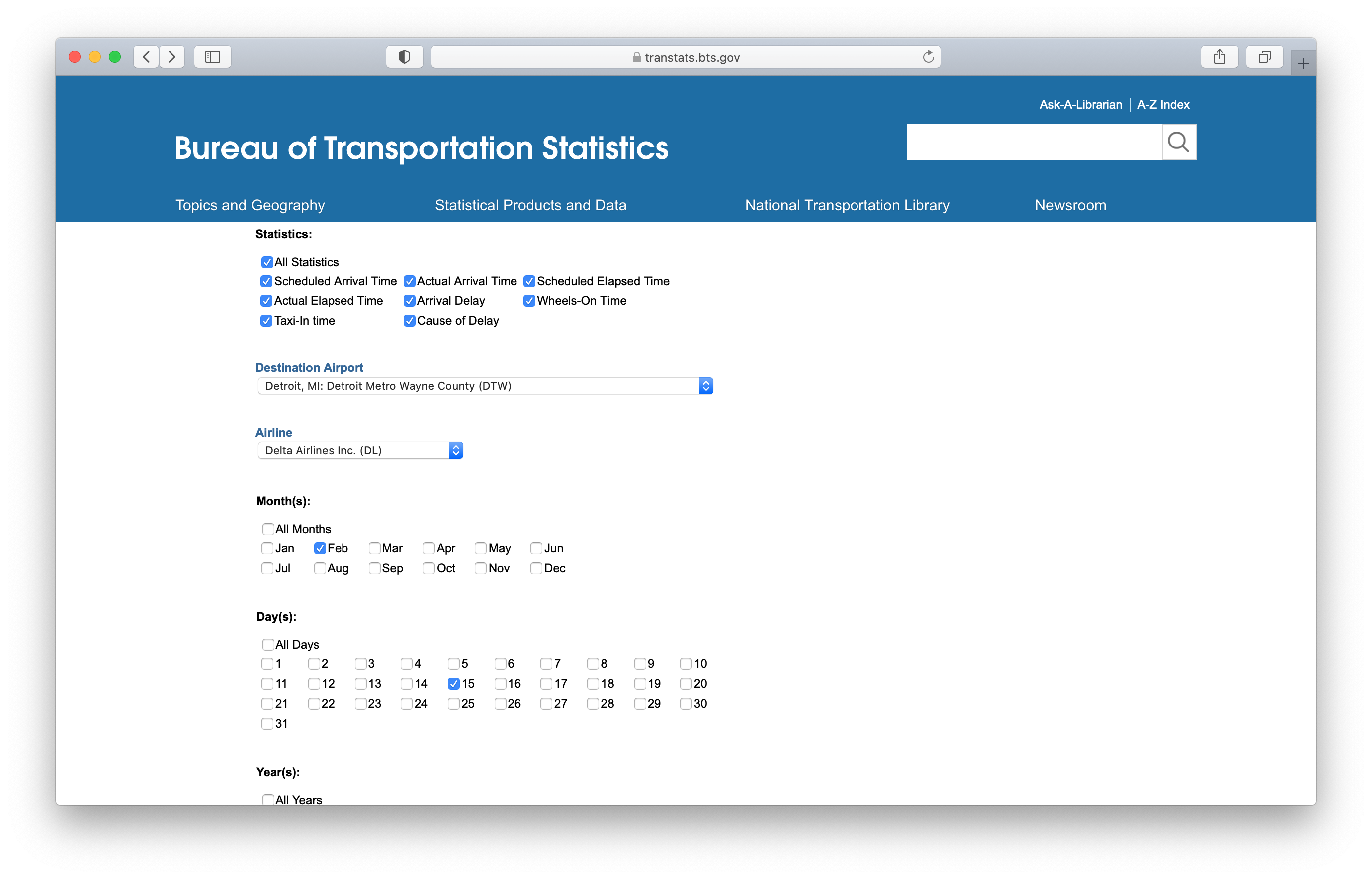 Be sure to select at least one statistic or the form won't submit; I usually just click All Statistics. The destination airport is Detroit Metro Wayne County (DTW), the airline is Delta, and the Month, Day, and Year are Feb, 15, and 2020.
Submitting the form gives us a table of all matching flights: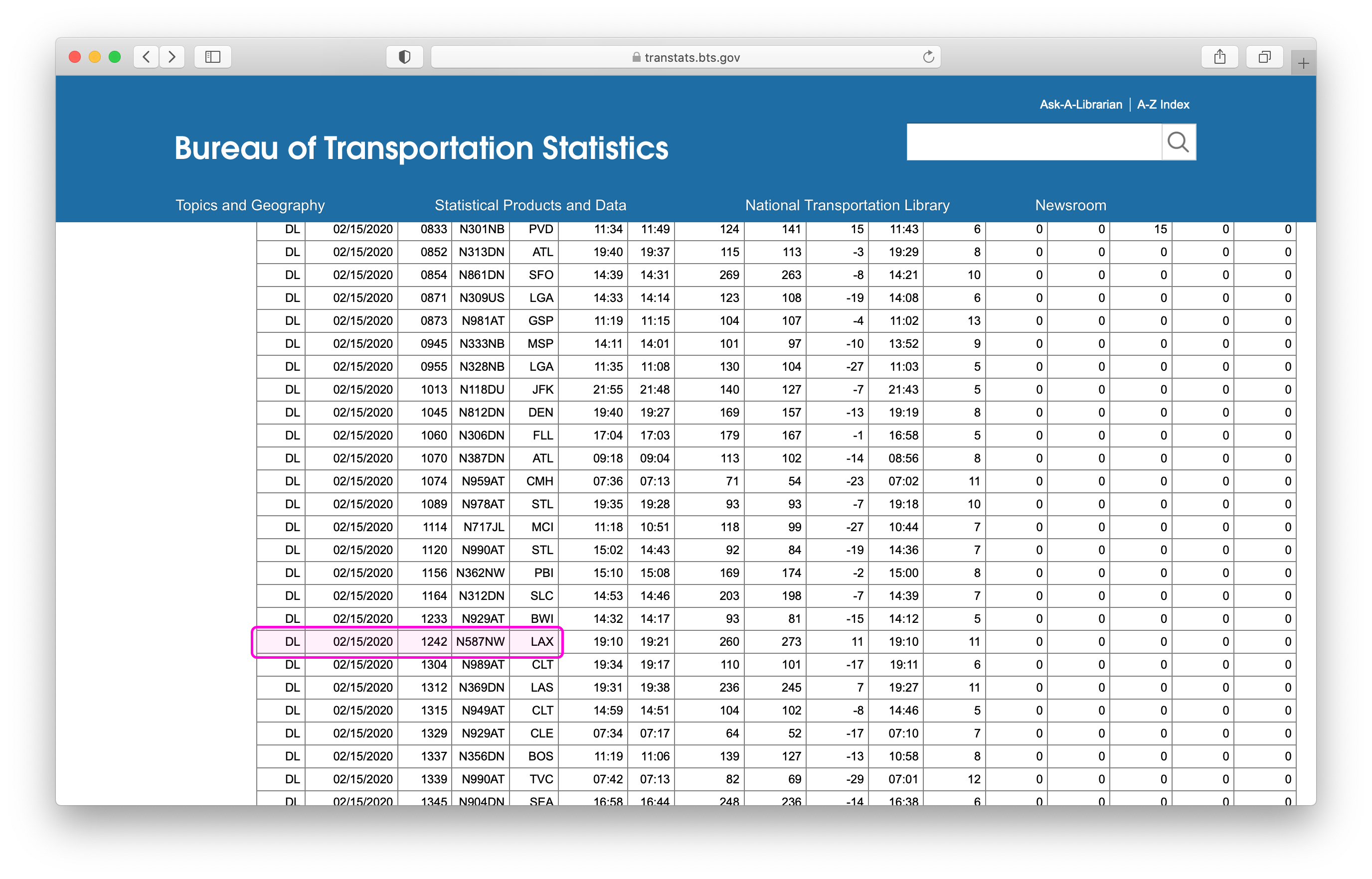 Scrolling down to flight 1242, we find that it was flown on tail number N587NW.
Conclusion
I didn't start actively tracking tail numbers until 2012, and even with that, I've had tremendous success finding the tail number for most of my flights by using these techniques. Of my hundreds of flights, only 21 have an unknown tail number, and all but one of those are from before I started tracking tails.
---
Though there are other flight tracking websites available (notably FlightAware), few of them will allow you to put in a flight number and get back a tail number. FlightAware allows the reverse (you can look up a tail number to confirm the flight number), but they don't show tail numbers on flights without a premium subscription. ↩︎

If a tail number is like a license plate, then a manufacturer's serial number is like a VIN—a permanent unique ID number assigned to the aircraft when it's built. ↩︎

For international flights, you may be able to find your flight and tail number in ACARS reports. However, the site seems to be out of date and unmaintained. ↩︎