(updated )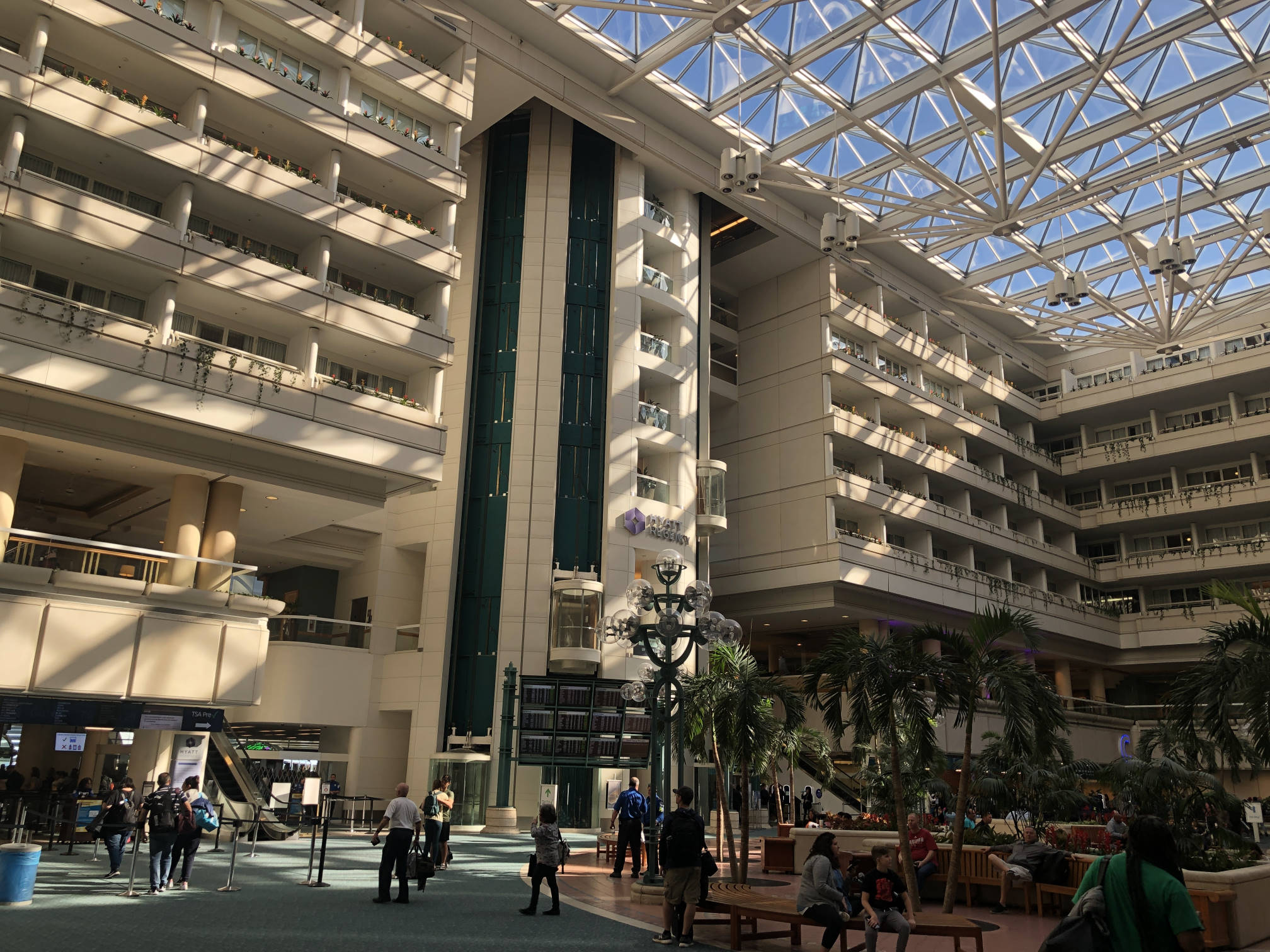 I have a bit of a love-hate relationship with MCO.
Orlando has made its way into my top five most visited airports, and it's the only one to have done so entirely as a destination. (Dallas/Fort Worth has a lot of destination visits for me, but it has many more visits as a layover.) In other words, I go to Orlando quite often—I work doing acquisition of flight simulators, and Orlando is a large modeling and simulation hub.
In theory, I should really like MCO.
It's a large airport with plenty of room to go for a walk if I get there early.

Given its size, it's laid out relatively well. If you know where you're going, you can get there with relatively minimal walking.

The main terminal has many interesting design elements—the ziggurat-like exterior, its rooftop parking, the Hyatt integrated into the eastern atrium.

It has enough variety of restaurants that it's not terrible to eat there.

Many, many airlines serve it, so it's great for planespotting.
But with all that, if I were asked to name my least favorite airport, Orlando would be a strong contender, purely due to the lines and the atmosphere.
Orlando is, of course, a world-class tourist destination; when I'm traveling there for work, I often feel a bit like a fish out of water. The airport is not targeted at me; it has all of the noisy excitement of a theme park, but if I'm traveling for yet another central Florida office visit, it's difficult to get caught up in the vacation enthusiasm. What's left is an airport that's hard to do work in and has huge lines everywhere—rental car counters, check-in, security, you name it.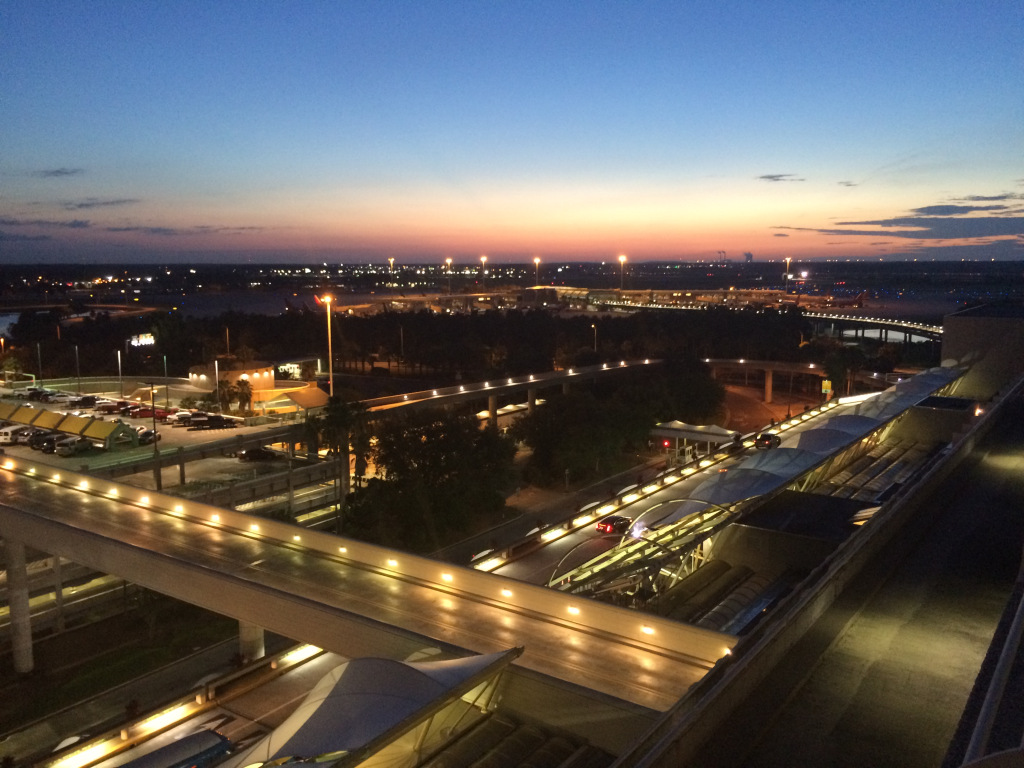 Orlando Survival Guide
It is at least possible to mitigate a lot of the problems I have with the airport; here are a few of my tips.
Get TSA PreCheck. Security is often packed, so being able to use a much smaller security line is a huge benefit. I paid for PreCheck entirely because of this airport. Not having to take off shoes or take things out of your bags is a bonus.

Never check a bag. This is my preference everywhere, but it's especially important in Orlando. The couple times I have had to check a bag (no overhead bin space for my carry-on, or traveling with someone who checked bags), the baggage claim took over half an hour; likewise, check-in lines can take quite a while. It's a much better experience if you can go straight from your plane to the rental car counter, and straight from the rental car return to security.

Print out or download your boarding pass beforehand. Not having a bag to check in doesn't do any good if you still have to go through the check-in line to get a boarding pass. It's best to skip the check-in line altogether, so have a boarding pass with you when you arrive.

Sign up for your rental car's loyalty program if it's free. Many US car rental agencies offer a line specifically for members of their loyalty program, and joining is usually free. This can save a lot of time even at smaller airports, but it's especially important at the rental car megalopolis of Orlando.

Program your navigation system before you head to your rental car. If you have an in-terminal rental car, your car will be located on one of the lower floors of a large concrete parking structure; if you brought your own GPS system with you, it's not likely to get a signal in the garage, and once you leave the garage, there's really nowhere to pull over safely to put in a destination until you're well away from the airport—and since you can effectively leave the airport in all four cardinal directions, you want to be sure you're going the right way. (Orlando's littered with tollways, too, so navigation mistakes can be expensive, especially in a rental car!)

Eat before going through security, or at least be sure to check the map to know what's in your concourse. There are many more options for dining pre-security (be sure to find the food court in the middle of the main terminal) than post-security, so just know what you're getting into if you're hoping to eat at the airport.

Bring earplugs or headphones. It's often quite loud. You'll probably notice this even on your flight to Orlando—in my experience, there's more conversation and excitement going on in flights with Orlando as a destination than any other destination I've been to (Honolulu is a close second).

Relax.