In May of 2019, I was flying home from a work trip out of Oklahoma City (OKC), when my United flight had to return to OKC due to a navigation system issue. Once we returned to Oklahoma City, the flight was ultimately cancelled, and people began lining up at the gate to get rebooked.
Fortunately, since it was a work trip, it was booked on a refundable fare and I had a coroporate travel office I could call for rebooking. They weren't able to get me on another set of United flights that day, but they were able to switch my itinerary over to a set of American flights to get me home to Dayton (DAY) that evening.
It seems that doing that swap must have tripped some sort of customer service notification with United. I received an email from United that evening, apologizing for the flight problem, and granting me some miles and a $100 voucher for a future United flight.
I used that voucher to book a return itinerary from visiting friends over New Year's 2019/2020, flying home out of Wilmington, North Carolina (ILM) on 3 January 2020. After we'd boarded the jet at ILM, the gate crew realized that one of the seats on the full flight was broken and unusable—and since the airport the plane had come from hadn't notified them of this issue, they'd loaded one too many people on the plane. The United agent came on offering a $1000 voucher for anyone willing to give up their seat, deplane, and take a later flight (once again on American); I immediately accepted.
Normally the vouchers expire after one year, but when COVID-19 began disrupting travel, United extended the expiration dates by an extra year.
While I did end up taking a few business trips during the pandemic, I hadn't taken any personal flights since that ILM trip. As we were fully vaccinated against COVID, Amy and I decided it'd be a reasonable time to take a quick Memorial Day weekend trip.
Since we'd heard that United had a new direct flight from Columbus, Ohio (CMH) to Portland, Maine (PWM), and I still had that $1000 United voucher, we decided to book ourselves a first class round trip ticket to Maine. Though I new it was a new route when I booked it for 27 May, I didn't realize I'd booked the flight on literally its first day of operation.
Starting May 27, United will begin point-to-point service to Charleston, S.C.; Hilton Head, S.C.; Myrtle Beach, S.C.; Pensacola, Fla. and Portland, Maine from seven cities including Cleveland, Cincinnati and Columbus, Ohio; St. Louis, Mo.; Pittsburgh, Pa.; Milwaukee, Wis. and Indianapolis, Ind. United plans to operate these point-to-point routes through Labor Day weekend. Most customers on these flights will experience United's new Bombardier CRJ-550 – the world's first 50-seater aircraft with two cabins. The spacious CRJ-550 is equipped with 10 first class seats, 20 Economy Plus seats, 20 standard economy seats, Wi-Fi, more legroom and enough overhead bin space for every customer to bring a roller bag on board.
When we arrived at PWM, I noticed a fire truck beside our taxi path. PWM had decided to arrange a water salute to inaugurate the new route!
As we deplaned, the airport had also set up balloons and a photo wall, as well as a table of free souvenirs and snacks in honor of the new route.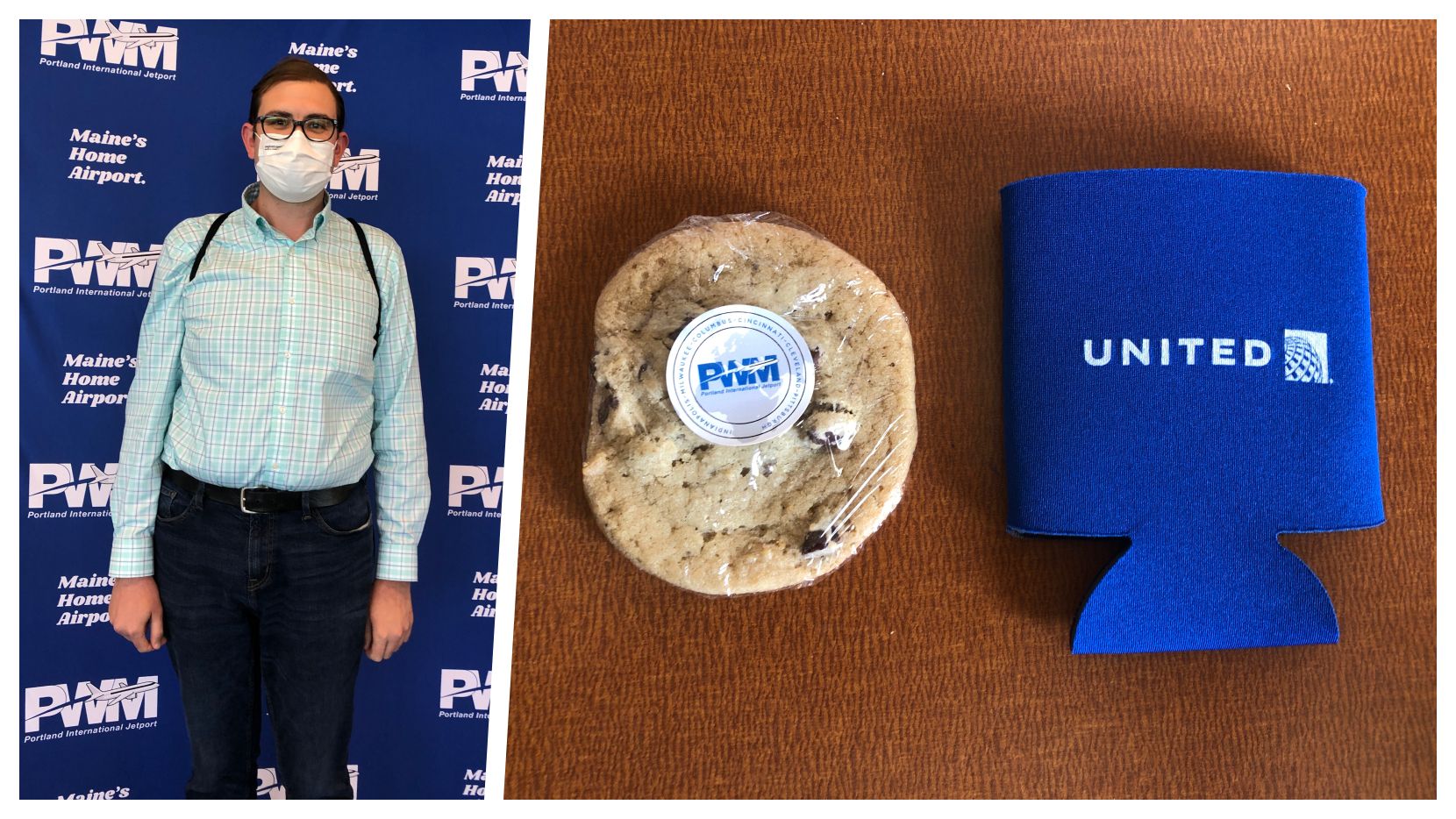 Other than the celebration, the flight was notable for being my first time on a CRJ-550, which is essentially a CRJ-700 but with ony 50 seats (it would normally have about 70). They accomplished this by having more first class and premium economy seats than usual, as well as more storage, which made it feel like an exceptionally roomy regional jet.
We managed to have both legs of the trip without any travel interruptions. With everything happening on time, and no overbookings, my voucher chain ended over two years after it started.