Nine years ago, I set a goal to fly though one hundred airports. This week, I finally achieved my goal by visiting Hartford (BDL).
Airport Locations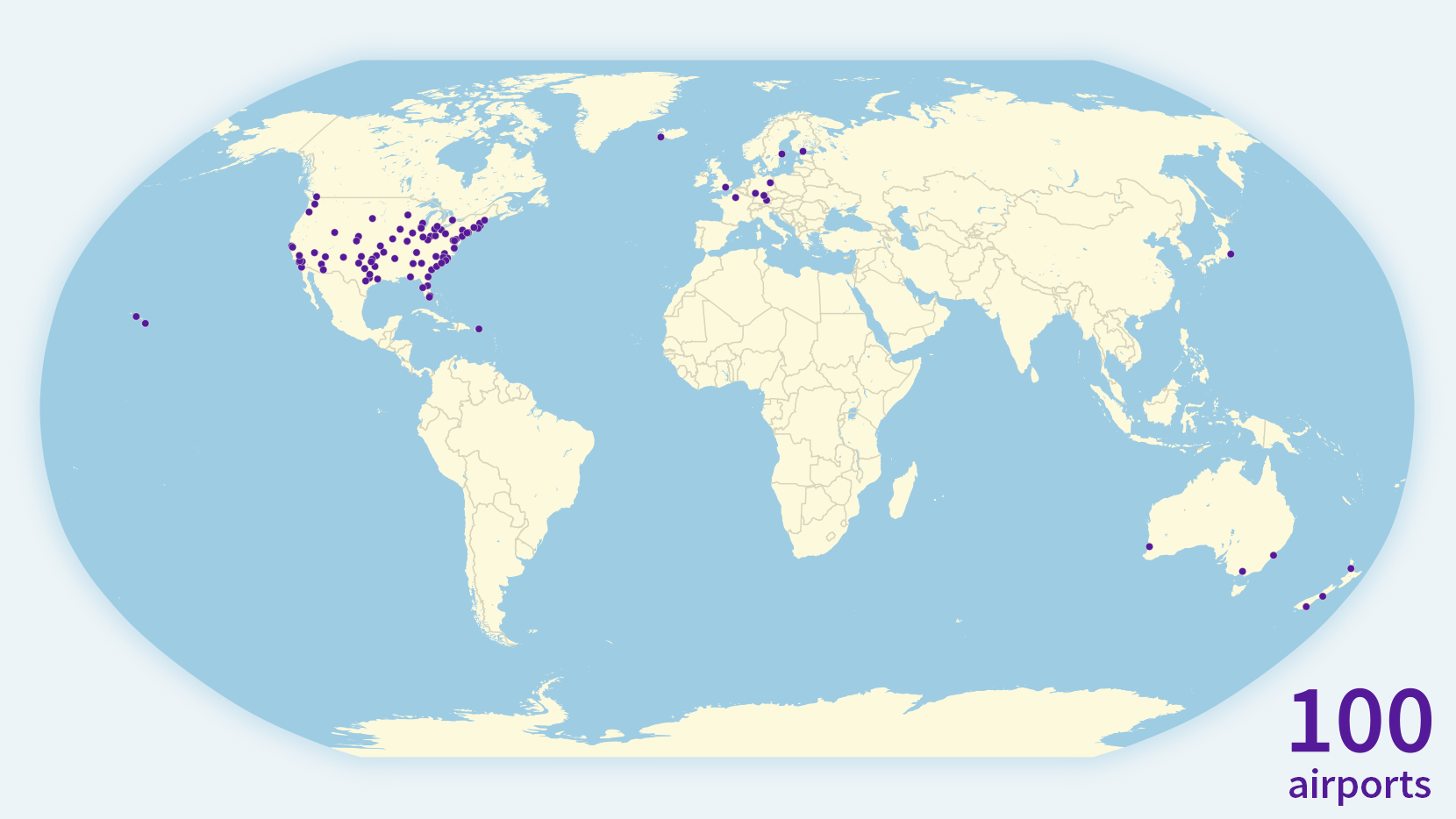 Of my first 100 airports, 82 are in the United States, and the remaining 18 are in other countries. (For more details, see the Complete List of My First 100 Airports section below.)
History
We moved around the country and world more than a few times when I was growing up, so I had a reasonable amount of air travel when I was young. However, I can only find flight data back to age 16, so my flight history (and airport count) starts then.
My flying was fairly minimal until 2009, when I moved into a position at work that required a decent amount of business travel. As I started to fly more, I began keeping track of where I flew; I started with spreadsheets, and eventually developed and switched to my flight log website by 2013.
Having the flight log meant that it was much easier for me to get statistics for my travel. In particular, by mid-2013 I noticed that I'd visited quite a few distinct airports. It was then that I set my goal to visit a hundred airports, and I created a blog at onehundredairports.com to create a post for every airport I visited. (I've since moved my collection of airports to the site you're reading now.)
Visiting new airports was easy at first. With Dayton (DAY) as my home airport, nearly everywhere I fly requires a layover, so I could pick up new airports just by choosing different cities to transfer through. Eventually, I picked up all of the major U.S. domestic hubs. For a lot of trips, I was also able to fly into alternate airports that were a further drive from my destination, but cheaper, than the closest airport to where I was going.
I continued to pick up a few new airports each year, ending 2019 with 96 airports, and fully expecting that at the rate I was going I'd get my 100th airport in 2020. Well, that didn't quite happen as planned. In 2020 and 2021, my work travel was vastly reduced (though not entirely eliminated), so I didn't visit any new airports in 2020 and only one in 2021.
This year, work travel has picked back up again. I also switched to a program at work which has travel to some different cities. Those new cities meant new airports, which is how I picked up my final three airports of Jacksonville (JAX), Albuquerque (ABQ), and Hartford (BDL).
The Century Terminal
One of my hobbies has been drawing silhouettes of airport terminals—specifically, the terminals for all airports I've visited.
To celebrate my 100th airport visit, I created a silhouette that imagined if all of my first 100 airports were combined into one gigantic terminal. The result:
Complete List of My First 100 Airports
| # | Code | Airport | First Visit |
| --- | --- | --- | --- |
| 1 | DAY | Ohio, United States | 22 Mar 2001 |
| 2 | CVG | Ohio/Kentucky, United States | 22 Mar 2001 |
| 3 | SFO | California, United States | 22 Mar 2001 |
| 4 | SJC | California, United States | 27 Mar 2001 |
| 5 | ATL | Georgia, United States | 27 Mar 2001 |
| 6 | IND | Indiana, United States | 15 Jul 2007 |
| 7 | SEA | Washington, United States | 15 Jul 2007 |
| 8 | ORD | Illinois, United States | 27 Dec 2008 |
| 9 | CLE | Ohio, United States | 27 Dec 2008 |
| 10 | JFK | New York, United States | 27 Dec 2008 |
| 11 | LGA | New York, United States | 2 Jan 2009 |
| 12 | MKE | Wisconsin, United States | 2 Jan 2009 |
| 13 | STL | Missouri, United States | 9 Feb 2009 |
| 14 | DFW | Texas, United States | 9 Feb 2009 |
| 15 | CLT | North Carolina, United States | 22 Mar 2009 |
| 16 | PHF | Virginia, United States | 27 May 2009 |
| 17 | CMH | Ohio, United States | 15 Jun 2009 |
| 18 | FRA | Germany | 9 Aug 2009 |
| 19 | SAV | Georgia, United States | 16 Oct 2009 |
| 20 | MCO | Florida, United States | 30 Nov 2009 |
| 21 | SLC | Utah, United States | 11 Jan 2010 |
| 22 | LAS | Nevada, United States | 1 Mar 2010 |
| 23 | PHX | Arizona, United States | 12 Jul 2010 |
| 24 | IAD | D.C./Virginia, United States | 4 Oct 2010 |
| 25 | BWI | Maryland, United States | 3 Dec 2010 |
| 26 | ABI | Texas, United States | 7 Dec 2010 |
| 27 | AVP | Pennsylvania, United States | 16 Jan 2011 |
| 28 | TOL | Ohio, United States | 27 Jun 2011 |
| 29 | DCA | D.C./Virginia, United States | 27 Jun 2011 |
| 30 | LAX | California, United States | 1 Feb 2012 |
| 31 | HNL | Hawaii, United States | 1 Feb 2012 |
| 32 | CHS | South Carolina, United States | 20 Feb 2012 |
| 33 | OKC | Oklahoma, United States | 28 Feb 2012 |
| 34 | PHL | Pennsylvania, United States | 12 Mar 2012 |
| 35 | EWR | New Jersey, United States | 4 May 2012 |
| 36 | MSP | Minnesota, United States | 16 Aug 2012 |
| 37 | RAP | South Dakota, United States | 16 Aug 2012 |
| 38 | AUS | Texas, United States | 11 Feb 2013 |
| 39 | BOS | Massachusetts, United States | 21 Mar 2013 |
| 40 | DTW | Michigan, United States | 29 Apr 2013 |
| 41 | DEN | Colorado, United States | 3 May 2013 |
| 42 | GRK | Texas, United States | 29 Jul 2013 |
| 43 | ITO | Hawaii, United States | 23 Aug 2013 |
| 44 | PDX | Oregon, United States | 2 Sep 2013 |
| 45 | TUL | Oklahoma, United States | 23 Sep 2013 |
| 46 | IAH | Texas, United States | 28 Sep 2013 |
| 47 | MHT | New Hampshire, United States | 4 Nov 2013 |
| 48 | MDW | Illinois, United States | 6 Dec 2013 |
| 49 | ICT | Kansas, United States | 28 May 2014 |
| 50 | TUS | Arizona, United States | 21 Jun 2014 |
| 51 | FLG | Arizona, United States | 28 Jun 2014 |
| 52 | LAW | Oklahoma, United States | 6 Oct 2014 |
| 53 | SAN | California, United States | 1 Nov 2014 |
| 54 | SJU | Puerto Rico, United States | 26 Nov 2014 |
| 55 | LIT | Arkansas, United States | 21 Jun 2015 |
| 56 | YVR | British Columbia, Canada | 21 Jul 2015 |
| 57 | YYZ | Ontario, Canada | 24 Jul 2015 |
| 58 | SPS | Texas, United States | 19 Oct 2015 |
| 59 | COS | Colorado, United States | 2 Nov 2015 |
| 60 | BNA | Tennessee, United States | 21 Dec 2015 |
| 61 | AMA | Texas, United States | 24 Jan 2016 |
| 62 | SAT | Texas, United States | 7 Mar 2016 |
| 63 | MUC | Germany | 20 Mar 2016 |
| 64 | NUE | Germany | 26 Mar 2016 |
| 65 | TXL | Germany | 26 Mar 2016 |
| 66 | LHR | United Kingdom | 26 Mar 2016 |
| 67 | CDG | France | 2 Apr 2016 |
| 68 | KEF | Iceland | 2 Apr 2016 |
| 69 | ONT | California, United States | 2 May 2016 |
| 70 | PWM | Maine, United States | 11 Jul 2016 |
| 71 | DSM | Iowa, United States | 7 Aug 2016 |
| 72 | BUR | California, United States | 11 Sep 2016 |
| 73 | RDU | North Carolina, United States | 31 Oct 2016 |
| 74 | OAJ | North Carolina, United States | 9 Jan 2017 |
| 75 | VPS | Florida, United States | 21 Mar 2017 |
| 76 | BFL | California, United States | 24 Apr 2017 |
| 77 | TPA | Florida, United States | 6 Jun 2017 |
| 78 | PIA | Illinois, United States | 3 Aug 2017 |
| 79 | SYD | New South Wales, Australia | 12 Feb 2018 |
| 80 | PER | Western Australia, Australia | 12 Feb 2018 |
| 81 | MEL | Victoria, Australia | 21 Feb 2018 |
| 82 | CHC | New Zealand | 23 Feb 2018 |
| 83 | DUD | New Zealand | 23 Feb 2018 |
| 84 | AKL | New Zealand | 28 Feb 2018 |
| 85 | LBB | Texas, United States | 8 Aug 2018 |
| 86 | PVD | Rhode Island, United States | 17 Dec 2018 |
| 87 | NRT | Japan | 10 Feb 2019 |
| 88 | FLL | Florida, United States | 16 Mar 2019 |
| 89 | FAY | North Carolina, United States | 11 Jun 2019 |
| 90 | PIT | Pennsylvania, United States | 24 Jun 2019 |
| 91 | BHM | Alabama, United States | 18 Jul 2019 |
| 92 | MCI | Missouri, United States | 29 Jul 2019 |
| 93 | HEL | Finland | 19 Aug 2019 |
| 94 | ARN | Sweden | 19 Aug 2019 |
| 95 | MIA | Florida, United States | 18 Oct 2019 |
| 96 | ILM | North Carolina, United States | 30 Dec 2019 |
| 97 | MYR | South Carolina, United States | 8 Jul 2021 |
| 98 | JAX | Florida, United States | 22 Mar 2022 |
| 99 | ABQ | New Mexico, United States | 28 Mar 2022 |
| 100 | BDL | Connecticut, United States | 18 Jul 2022 |