Travel finally started picking back up for me in 2022, after two years spent mostly at home. I'm not quite back up to the level of some of my busiest travel years, but I still spent over three cumulative months away from home.
I passed two major milestones this year: I achieved my long-time goal of flying through one hundred different airports, and I took my 1000th flight.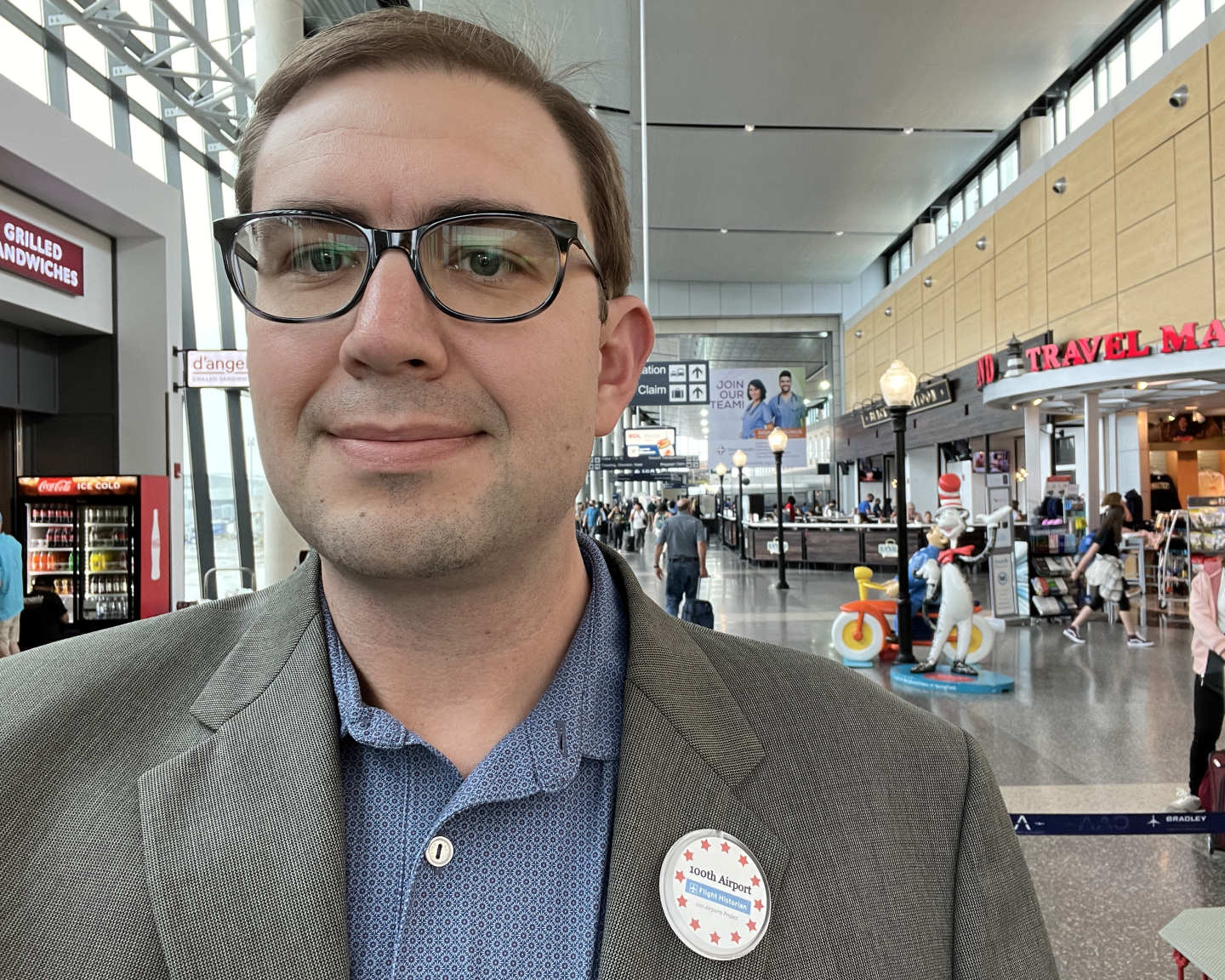 Table of Contents
Hotel Nights
I spent a total of ninety-seven nights away from home in 2022.
2022 Nights Away from Home

| | |
| --- | --- |
| Business | 78 nights |
| Personal | 19 nights |
| Total | 97 nights |
Seventy-eight nights were for for work—exactly the same number of work nights I had in 2019, my last major travel year. However, I had fewer personal nights (nineteen this year, but thirty-two in 2019).
Hotel Map
A good deal of my travel was to the Atlantic states, and Florida in particular. Jacksonville, Florida was the metro area in which I spent the most nights away from home, with 24 total nights.
Pinehurst, Bridgeport, Valdosta, Jacksonville, New Orleans, and Albuquerque were all metro areas I hadn't stayed in before (though I'd driven through some of them). I moved to a new program at work in January, which had a number of new-to-me travel destinations. I had some personal travel to new destinations as well.
This year was also unusual in that I had five nights away from home but still in my local metro area of Dayton, Ohio; these were all due to COVID isolation.
My one-night stay in the Washington, D.C., metro area was unplanned. I had booked a tight connection on a trip through Washington–Reagan National (DCA). My initial flight from New York–LaGuardia (LGA) into DCA was delayed by an hour, so I missed my connection, and there were no other flights available to Dayton (DAY) that evening.
Distance from Home by Day
My busiest travel time was May through September. Seattle (in early September) was my furthest-from-home destination.
Flights
I flew on seventy-four flights this year, and rode on my 1000th flight in November. (The year ended with 1007 total flights in my flight log.)
2022 Flights

| | | | |
| --- | --- | --- | --- |
| Business | 70 flights | 32 645 mi | 52 536 km |
| Mixed | 0 flights | 0 mi | 0 km |
| Personal | 4 flights | 4 131 mi | 6 648 km |
| Total | 74 flights | 36 776 mi | 59 185 km |
My flights weren't quite back up to 2019 levels, as travel was still relatively slow for me the first few months of the year. I also had a few more direct flights than usual, with several trips to Georgia where I just took the direct flight to Atlanta (ATL) and drove the rest of the way, which slightly lowered my average number of flights per trip.
Flight Map
Most of my flights were from Dayton to the east coast, but I did manage to get out west a few times.
Flight Graph
Although I flew 50 flights on American (AA) and only 24 on Delta (DL), Delta's Atlanta (ATL) hub was my most-visited airport after only my home airport of Dayton (DAY)—all but two of my Delta flights involved ATL, while my American flights were spread out over five different AA hubs.
I also used nearby Cincinnati (CVG) and Columbus (CMH) for a few trips, typically to get better flight options. One of my trips I missed a connection at Dallas/Fort Worth (DFW) and couldn't get another flight back into DAY that evening, so I accepted a flight to CVG instead.
1000th Flight
I flew on my 1000th flight, ending the year with 1007 total flights in my flight log.
New Airports
I visited five new airports, including my 100th airport.
| # | Code | Airport | First Visit |
| --- | --- | --- | --- |
| 98 | JAX | Florida, United States | 22 Mar 2022 |
| 99 | ABQ | New Mexico, United States | 28 Mar 2022 |
| 100 | BDL | Connecticut, United States | 18 Jul 2022 |
| 101 | MSY | Louisiana, United States | 25 Jul 2022 |
| 102 | RIC | Virginia, United States | 18 Sep 2022 |
While it wasn't technically a new airport for me, I did visit New York–LaGuardia's (LGA) new Terminal B for the first time.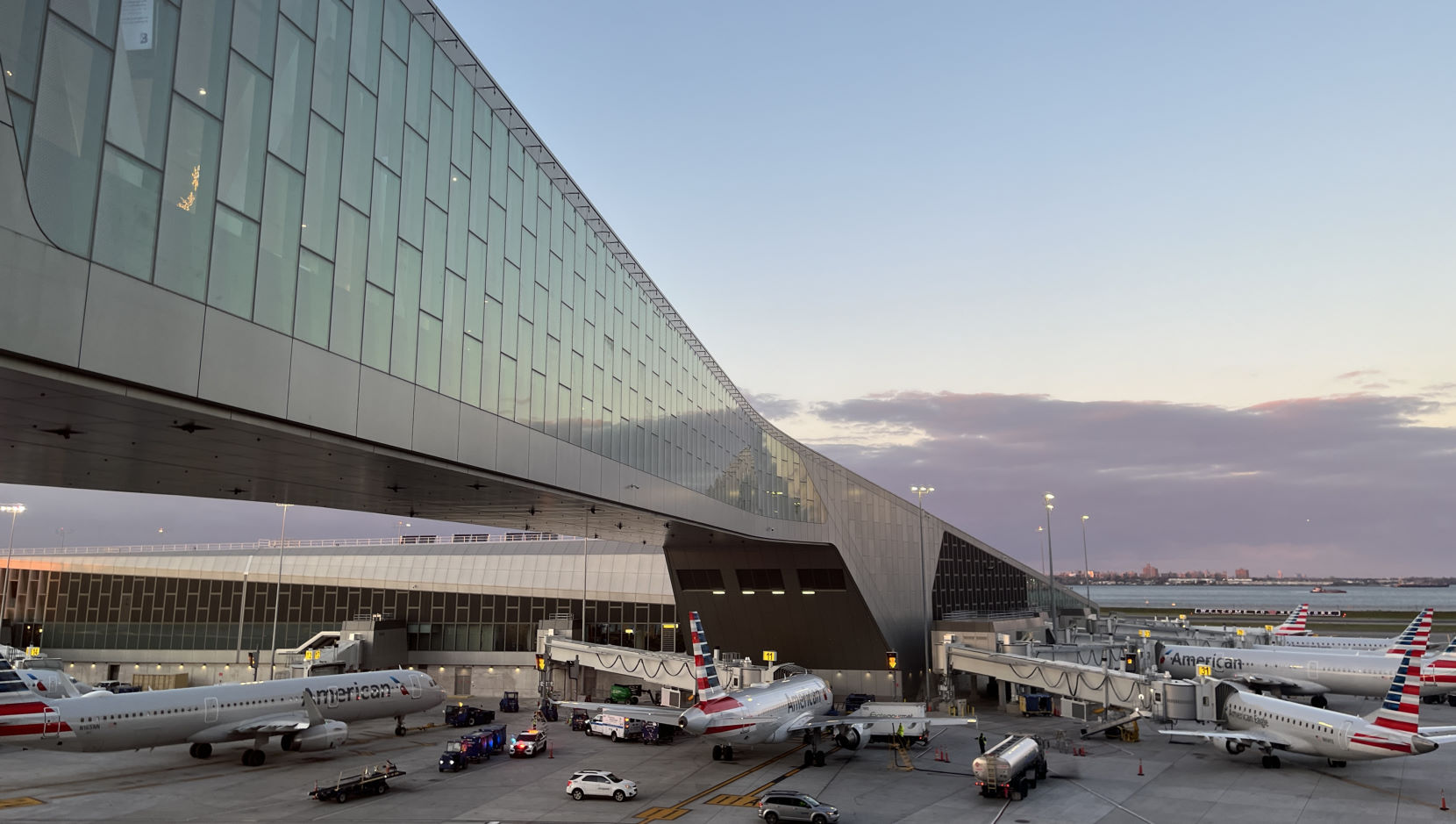 New Airlines
I did not fly any new airlines in 2022; all of my flights were on American Airlines (AA) or Delta (DL). I did have my 500th American flight and 100th Delta flight ever, ending the year with 530 AA flights and 122 DL flights over my lifetime.
New Aircraft
I had my first flight on a Boeing 737 MAX (a 737 MAX 8, to be specific), although I've flown on other Boeing 737 aircraft plenty of times before.
Driving
I drove 20 155 miles (45 461 km) this year. Most (but not all) of my rental cars were for work travel.
2022 Driving

| | | |
| --- | --- | --- |
| Rental cars | 8 205 mi | 13 205 km |
| Personal car | 20 155 mi | 32 436 km |
| Total | 28 360 mi | 45 461 km |
With more work travel this year I was home less, meaning my personal driving was reduced and my rental car distance was increased. However, just because I drove so many personal miles in 2021, my total 2022 mileage is only 95% of last year's mileage.
Driving Maps
I did a decent amount of local driving around my home state of Ohio. I took some short road trips to Chicago and Detroit, and spent a week visiting friends and family around North Carolina.
New Driving
As discussed in the Hotel Map section above, Jacksonville was where I spent the most nights over the course of the year. I also had multiple trips to Valdosta, Georgia, driving sometimes from the airport in Jacksonville (JAX) and sometimes from Atlanta (ATL). With all of that and a few other trips, I had a lot of new driving (roads I hadn't driven on before) throughout Georgia and Florida. In particular, a drive from Jacksonville to Savannah this summer finally connected two of my driving log's road networks (the large conglomeration originating from my home in Ohio, and my Jacksonville-Orlando-Tampa collection of tracks) into a single larger network.
My last trip to the Virginia Beach area was in 2009, before I started logging my driving, so my two recent trips there also gave me some new driving tracks in eastern Virginia. While I'd been to both New York City and Connecticut before, I hadn't driven in either until 2022. Albuquerque and New Orleans were new destinations for me, so all driving around those areas was new for me as well.
The New Orleans section was particularly exciting for me, as I finally had the opportunity to drive across the longest bridge in the United States—the 24 mile (38 km) Lake Pontchartrain Causeway.
Driving Below Sea Level
New Orleans is famously below sea level, which means that some of my 2022 driving was at a negative elevation. Estimating by comparing my driving log to a topographic map, it appears that at some points on that trip I was driving about 3 ft (1 m) below sea level (−3 ft elevation).
There were some times I was driving at an even lower elevation than that, all in underwater tunnels. For example, I drove through the Lincoln Tunnel between New Jersey and New York City, which has a maximum roadway depth of −97 ft (−30 m).
Most of my below-sea-level driving, though, was in the Virginia Beach (Hampton Roads) area. With shipping being so important to the region, there are a lot of underwater tunnels and bridge-tunnels in the area, and I drove through many of them:
Rental Car Colors
I've started keeping more detailed notes about my rental cars, including car color. With this data, it's possible to plot my total distance driven by rental car color, and it turns out I drove the most total miles in red rental cars this year.
Rental Car Issues
While driving in a construction zone in the Orlando area, the car in front of me ran over a large piece of debris on the roadway and flung it up into my rental car, where it shattered the passenger side of the windshield and gouged the A-pillar. I was fine, and I returned the car to MCO where the rental agency gave me a replacement car.
(The replacement car was white. Had this incident not happened, I would have had slightly more miles in red rental cars.)
Though having my windshield shatter at highway speeds was certainly my most dramatic rental car event, the overall rental car experience this year was not great. Demand for rental cars was a lot higher than the supply of cars in a lot of places, leading to long waits. I had billing errors on more than one occasion, and since nearly every car rental agency is now trying to use "you'll get an emailed receipt soon" instead of providing a paper receipt at return, the errors are often not even discovered until it's too late to easily fix them.
One of my rental cars never ended up getting checked in when I returned it. When I hadn't received a receipt by the next day, I logged in to the car rental agency's website and discovered they still thought I had the car (even though I'd already flown home), and they were continuing to charge me for additional days. It took several days of phone calls to get someone to go out and find the car that had been sitting on their rental car return lot the whole time, so that they fix my bill for the correct return date and finally issue me the receipt I needed to file my employer's travel voucher for reimbursement.
Visited States and Countries
I visited 19 states in 2022, including two states I visited for the first time (Louisiana and Mississippi). This leaves me only five remaining states to visit: Alaska, Idaho, Montana, Nebraska, and North Dakota.
I did not travel outside of the United States.
Frequent Traveler Status
I've changed the format of my status chart a bit. American (AA) changed its status year to be from the beginning of March through the end of February, meaning it didn't quite line up with the status chart based on calendar years I was using. As other loyalty programs have also extended their status benefits beyond 31 December at various points, I finally switched the chart to show continuous status over time, rather than discrete years. As a bonus, this means it's also possible to see how early in any given year I earned a particular status: the further left in a given year a status triangle is, the earlier in that year that status was earned.
Airline Loyalty Programs
American Airlines (AAdvantage)
I did not end up retaining any status under American's updated AAdvantage program.
My pre-COVID status finally expired at the end of March, and AA's new loyalty points system is entirely dependent on how much money is spent with them. I fly a lot, but it's typically a lot of short cheap flights rather than a few long expensive flights, so spending requirements are difficult to hit under my style of travel. Thus, although I had 50 flight segments with AA this year, it was only enough to get me two-thirds of the way to the 30 000 points needed for Gold status (AA's lowest status tier).
Technically I have through the end of February to reach Gold, but it seems unlikely that I'll reach it. Next year will be even harder, as they're planning to increase the requirement for Gold to 40 000 points.
Delta Air Lines (SkyMiles)
I was able to maintain my Silver Medallion status on Delta (DL).
Hotel Loyalty Programs
Hilton (Honors)
I easily kept my Hilton Diamond status, earning it by 1 July. The requirements for Diamond were still slightly lower than normal—42 nights required instead of the usual 60—but even at the usual requirement I would have been fine, since I spent 73 nights in Hilton hotels.
I'm getting close to Lifetime Diamond status, which requires 10 total years of earning Diamond and 1000 total nights. My tenth time earning Diamond status was this year (✔), and I've spent a total of 933 nights at Hilton properties over my lifetime. (My qualifying nights total is slightly less than that, since a few nights came from before I signed up for Hilton's loyalty program, or were nights where I was staying with someone else under their reservation.) If travel continues at a similar rate, I should get my thousandth night sometime in 2023 or 2024.
IHG (Rewards Club, One Rewards)
Oddly, I also have second-tier IHG status despite having barely stayed with them. This year I only spent one night in IHG properties—a Holiday Inn on the night that I got stuck at Washington–Reagan National (DCA)—but the hotel room was provided by an American Airlines voucher, so it didn't count for IHG status anyway.
Back in 2019, I got the 10 nights needed for what was then their lowest-tier status of Gold. That status was extended another two years when nearly everyone was extending status during the COVID travel downturns. Then in April, IHG revamped their rewards program to add another tier, changing to Gold their second tier status—and they granted it to me since I was Gold under their old program. It doesn't matter too much since it expires at the end of 2022, but it's still fun that it ended up that way.
Trivia
My longest flight was from Seattle/Tacoma (SEA) to Detroit (DTW), with a distance of 1922 miles or 3093 km.
My shortest flight was from Philadelphia (PHL) to Richmond (RIC), with a distance of 198 miles or 318 km.
---
After several hours of research, I couldn't find an authoritative source on the minimum roadway depth of either of the two existing CBBT tunnels. A new parallel tunnel is being built, and that is published at −134 ft (−41 m). ↩︎